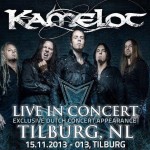 Yesterday I attended one of the best live shows I've been to: Kamelot!! The best show AFTER the Epica ones I've attended of course (hihi) But seriously now! Kamelot is great; both on their albums and on stage. The entire band is full of energy and Tommy Karevik is one awesome singer and entertainer. I left the venue with a feeling of complete and utter satisfaction.
Let me start at the beginning.
I had ordered my ticket for the show in September via Patrick (as usual) and since there was a VIP package available I went for that. It's not every day you get to see a band like Kamelot – at least I don't – so I went for the ultimate experience. The VIP ticket held in that you get to enter the venue an hour earlier than the rest of the crowd, get a signing session with the band and got to take your picture taken with the entire band.
I arrived at in 013 an hour before the VIP ticket holders were about to be let inside. Luckily I got to skip the long line and didn't have to wait very long outside. Once inside I bought the latest Kamelot record Silverthorn, which I didn't own physically yet, and went to the signing session with the band. Got a signature from all band members on a poster and on the CD and after that my photo taken with them.
After the VIP session we were let into the concert hall. The openings band Tellus Requiem was still busy with their sound check. About an hour later they took the stage. Tellus Requiem wasn't really that special. I honestly don't remember one song and the vocalist also didn't stand out that much to me. There songs were a bit all over the place and weren't catchy and lacked rhythm. This is just my personal opinion, but from the reactions I've heard, I wasn't the only one that wasn't really amused by this band.
Luckily the band that most people were more excited about – besides Kamelot of course – soon took over the stage: REVAMP. The Dutch band from no one other than the amazing Floor Jansen. This was my first time seeing Floor live; first time was with Mayan in 2011, but I was very excited, because I'm a huge fan of Floor's voice and her band's music. Sadly, they weren't the main act, so the set list wasn't that long, but it was long enough to fully enjoy the powerful voice of Floor. The crowd seemed to be very excited just as I am, because everyone was cheering "Floortje, Floortje, Floortje!" very loud. Revamp rocked!
(See the set list they played here)
As soon as Revamp was finished playing the stage was cleared for Kamelot. There was a huge curtain set up and in about half an hour we could hear the intro music of Kamelot. It was showtime!!!
KAMELOT is a band that I have listened to for years now, watched online videos, and I own their live DVD and I know they are amazing, however… nothing was the same as experiencing Kamelot live myself. The band's energy, Tommy's voice and his expressions of the songs, the flames, the fireworks, the smoke, the outfits of the band member and the female singer Alissa White-Gluz, the guest musicians (Eklipse and Marcela Bovio*), the rising stage of Tommy… it was all AMAZING!!!! They had a long set list with all the well-known Kamelot songs and I sang along to each and every track. The set list of Kamelot can be found here!
*Yes I came across Marcela her for the 3th time during this vacation
Kamelot is definitely a band that I would mind seeing more times live. Not only the band, but also the fans were amazing. We all sang loud along to the band, cheered them on, screamed and kept demanding more before they gave us an encore. I also came across a lot of Epica fans and made a few new ones. One very memorable fan is the one behind me screaming very loud – clearly a big Kamelot fan – Dennis; we are now friends on Facebook and he seems like a very cool guy.
Another cool thing about last night is that the concert was recorded for an upcoming Kamelot. So that means, I might be appearing in another live DVD of one of my favorite bands. Yay!
After the show I couldn't stay behind for too long as I usually do, because I wanted to grab the last train back to Amsterdam. My phone's battery had died, so I didn't want to be in an unknown place without a phone and internet. So I rushed to the train station and made my way back to Amsterdam. Fun fact: on the train I came across Otto Schimmelpenninck from Delain, who appeared to also have been at the Kamelot concert. He didn't recognize me, but I told him that I had met him before when Delain performed in Suriname and that I had been at his band's performance in Haarlem a few days earlier.
Until next time KAMELOT! \m/
PS: my phone battery had died since the beginning of the night AND my camera's battery died towards the last part of the show, so I have no pictures of my own Tommy's rising stage and the final song. Yes, I forgot to charge them both before heading to Tilburg *fail*
Below a few professional photos by photographer Jeroen Aarts.
More photos on his Facebook page here!