Kamelot has recently released yet another masterpiece of an album, called HAVEN and once again… I am in love with this piece of musical art. Kamelot's music needs no convincing in my book; their music is just amazing. So far I have loved all albums. The only exception would maybe be Poetry for the Poisoned.
But back to HAVEN.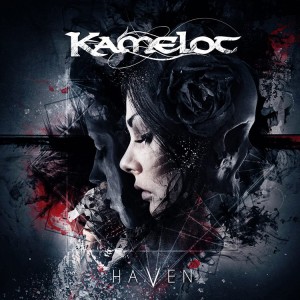 This is the second album with Tommy Karevik as the band's vocalist and once again Tommy has proven to be a great successor to the previous singer. Such a powerful voice that will make your tingle when he pours out those strong notes and he will make you go all emotional with the lower sensitive notes. That guy can probably sing the phone book and it will sound great.
I have been listening to HAVEN constantly since the release and the songs are also starting to linger in my head when I am not listening to it. After having listened to the album for a couple of times I am also able to sing-a-long to most songs. I have also pick out my favorite tracks (so far).
Fallen Star
Insomnia
Veil of Elysium
Under Grey Skies
My Therapy
End of Innocence
Liar Liar (Wasteland Monarchy)
Revolution
These are the songs that I constantly keep putting on repeat.
The album can be described as a mixture of the previous albums Silverthorn and Ghost Opera. Probably should have been named "Ghost Thorn" or "Silver Opera", but I guess HAVEN was a much better fit. 😉
Looking at the band's Facebook page, it seems that they album is also doing great on the music charts, which is well deserved. Congratulations KamNation \m/