As soon as the "The Holographic Principle" album was available for pre-order I knew I had to get the Earbook version of it. I had also purchased that earbook version of the previous album "The Quantum Enigma" and I think these are a must-have for all die-hard fans. In case you do not know what an Earbook is, it's exactly what it sounds like: it's a book, with lyrics and pictures and the CD's in it.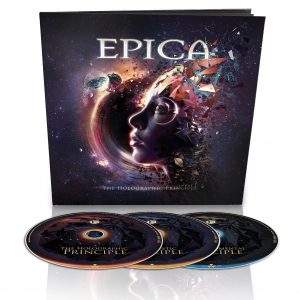 The print is amazing and it has exclusive pictures. Okay, I think in the normal version of the CD you can find all these in the booklet, but bigger it looks better.
I thought I would wait till the end of the month to order the earbook, but what I didn't realize was that unlike my country, the rest of the world is not dealing with a financial crisis. So by the time I was ready to order the earbook…. It was sold out. 🙁
I first had a minor panic attack, then quickly went to search for it on the Nuclear Blast webshop and it was also sold out. I almost broke down and immediately was filled with sadness and regret. After some intense searching I found the earbook still available on the UK webshop of Nuclear Blast. I immediately sent Patrick an email and he was able to order me a copy. I was utterly relieved and could finally relax when he sent me the order confirmation mail.
I only had to wait a few more minutes for another friend to fly the earbook over from Amsterdam to Paramaribo and now it is finally hear. I was just flipping through the pages and I could just feel the music come to live. It's truly a piece of artwork.
Thanks to everyone for helping me get my hands on this 🙂