It's been exactly a month since Epica released their seventh album "The Holographic Principle". I decided not to write anything about it until I have listened to it for a while. Usually I go "OMG this is the best album EVER" right after one week, but I can be bias and go into ultra-fan-mode.
Having said that… The Holographic Principle IS one of Epica's best records!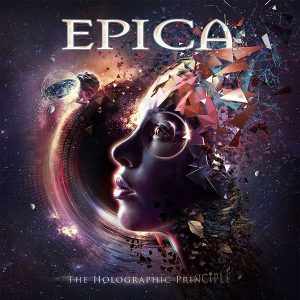 Each record I wonder how they can even top themselves. Especially after the previous recode, The Quantum Enigma, which is really-really good, but this one is just as good AND maybe even better. You really can tell that Epica has grown over the years. The music quality keeps getting better and better. I am not even going into the lyrics and sound just yet, but just the hard work and commitment is very noticeable.
And now moving on to the content of the record.
The previous record was all about the mind and the mystery around it. This album is a concept that we could be living in one big giant hologram. It's a very interesting concept. Let me do this track by track as each track is different, but each one is just as strong as the previous and the next. Mark Jansen said that this time they wanted to make songs that all could work live and I think they have succeeded.
The album is much heavier than ever before and ALL the typical Epica elements can be heard, but multiplied by ten. The album sounds enormous and it is almost like one big Epic soundtrack that you will not easily forget. I did not go into the lyrics, because I have not had the time to pay much attention to them yet. I am waiting for the earbook of this album to study the lyrics.
1. Eidola
This is probably the most cinematic and bombastic Epica intro song. Hans Zimmer would even be jealous of this. From the first notes you know that something Epic is about to go down. After that comes in the choir very subtly and that quickly builds up the anticipation of what is to come.
I have said this before and I will do so again:
I do hear a part in the intro that has a striking resemblance to the soundtrack of Inception and I am not sure if this intentional or pure coincidence. I will have a chat about this with Mark one day.
2. Edge Of The Blade
This song was the second song from this album that we got to hear. It was certainly a lot easier to listen to. It doesn't come as a surprise that this was made into a single. It has a nice solid rhythm to it.
It gets broken down in the middle by Simone's enchanting voice and then Mark blasts though it. I love it.
3. A Phantasmic Parade
There is not much I can say about this song. I am sure that it will be played live, because it has a nice feel to it that will work very well live. It's has a nice choir chorus that you can sing along to.
4. Universal Death Squad
I have already written an entire review on this song. But a short summary: I didn't like the song the first time I heard it and it took me a while to listen to it, but now I totally love it.
5. Divide And Conquer
This song is very Epica-ish. Mark and Simone are singing thought the entire song, but the grunts stand out the most in this song. It's a very fast paced song and a great head banging song. I also love the choir in the middle part. It's the total Epica package.
6. Beyond The Matrix
This is by far the catchiest Epica song ever. The lyrics and melody will get stuck in your head after just one listen. I can see this song being absolute fun song to jump to during a live performance.
7. Once Upon A Nightmare
This song is a spooky ballad. Simone really let's her vocal range be heard. With the spoken words in between it's kind of like a (dark) fairytale, but I think that was exactly what they were going for. It's unlike anything the band has done before, but it is a job well done.
8. The Cosmic Algorithm
I couldn't get into this song at first. It's a quite complex and there is a lot going on. I guess the name suits it well. It took me a while to understand this musical algorithm, but once I did it instantly became a favorite track to listen to. It has some very heavy blasts throughout the entire song.
9. Ascension – Dream State Armageddon
If I had to pick one song on the entire album that I would consider my favorite, this one would be it. It starts very spooky and at first you cannot tell if this will be a ballad or a heavy song, but as soon as you hear the guitars you know what direction this song is heading in. As soon as the orchestra kicks in you know this will be epic and yes, this song is EPIC!!! I love everything about it and I often have to put it on replay, because once is not enough. Mark's grunts sounds brutal, Simone shows off her vocal ranges, the choir is totally on point. It's another total Epica package.
10. Dancing In A Hurricane
This song is different, yet not unusual. Epica has played around with Middle Eastern sounds before and they can do it will. This song is no exception. You wouldn't think this could be a metal song, but it is… even if it will make you want to belly dance 🙂
11. Tear Down Your Walls
Just as the title suggest this song will tear walls down, with the massive sound. There is not much to say. You have to listen for yourself. It's also very fast passed from start to finish.
12. The Holographic Principle – A Profound Understanding Of Reality
As all with all Epica title tracks this song is long, yet each note is interesting. This one is practically beautiful with the long choir intro that is complete in Latin. This song will make you want to church. The church of heavy metal of course 🙂
The song has so much going on, but it all just works. I almost cannot believe the creativity and the attention to detail that has been spent on this song (and the entire album for that matter).
BONUS Tracks
There are also a couple of fun bonus tracks on the album. Epica shows that they have balls and they can do whatever they want and still make it sound great. The arrangements of the bonus tracks is amazing and I love them. Just go listen is all I have to say 🙂
Favorite Track
If I had to pick one favorite track on the album – and believe me this is not easy – but that would have to be:
Ascension – Dream State Armageddon