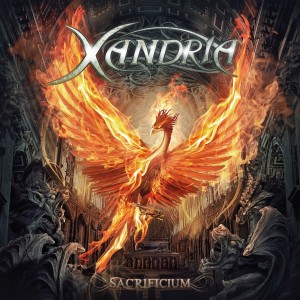 Symphonic metal band Xandria has released a new album called Sarcificum. And this time they have (yet again) a new vocalist: Dianne van Giersbergen. As the name may hint out, she is Dutch. I have heard the name around in the symphonic metal world, but had never heard music with her previous band. So I didn't know what to expect when first hearing the new songs. I was very pleased with what I heard. Dianne is an amazing singer and Xandria once again delivered an amazing album. Musically it sounds very Xandria-ish, but with the added strong operatic vocals it's perfection.
I have seen Xandria live in 2012 and I remember whispering in Manuela Kraller's ear, the previous singer, that she was the best the band has had so far. Now I am not so sure anymore. Dianne fills Manuela's shoes perfectly.
The album opens with the title track Sacrificium, a 10-minute long epic masterpiece. Trust me, you won't get bored and will not be able to sit still. This song makes you want to get up and headbang with all your energy.
Next jumps in the fast paced single Nightfall. This song has Xandria written all over it. But it's okay. It has all the trademark elements that makes this German band so successful. Catchy choir parts, heavy instrumental parts and piercing high vocal notes. I can totally understand why this song was picked as a single song. Another song that will make your headbang senses tingle.
The rest of the album is also filled with the same elements, all recognizable as Xandria, but still very interesting and new.
My other favorite tracks above the 2 mentioned above are:
Stardust
The Undiscovered Land
Betrayer
Little Red Relish
Our Neverworld
Sweet Atonement
This album will keep you enthralled from the very first note until the last if you are a big fan of symphonic metal as I am.
Great work Xandria!! Hope to see you guys one day perform live again!
——————-
Below you can see the official music video for Nightfall.