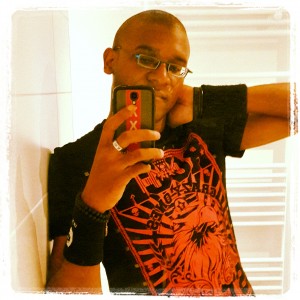 YES!!! *pinches self* no, I'm not dreaming!!! Finally!! I did it again!! 😀
Saw EPICA live…. AGAIN!! For the fifth time already now… and once again it was one amazing, spectacular and EPIC show!!! Seriously!
I arrived in Utrecht quite a few hours before the doors would be open. The train station of Utrecht is quite big and confusing. It has a shopping center build in so it took me a while to actually find how to exit the building and head towards the venue.
The venue was literally about 5-10 minutes away from the train station. Another good thing was, that the venue had an entrance hall that we were allowed to wait in, because it was a rainy day and standing inside is quite a lot more comfortable. Also access to a bathroom and wall sockets was a nice added bonus.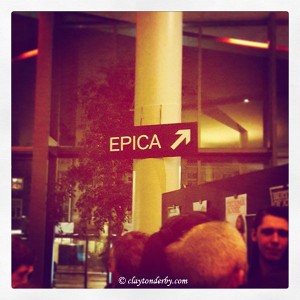 Once again it was nice to see some familiar faces and have a chit chat until the (first) door opened, where we had to wait yet again before going up the stairs towards the hall where the show would take place. As we waited I could see Rob van der Loo walking around. The venue is a gigantic, beautiful building. Really one of the nicest venues I've been too so far.
After a while we were allowed to go up the stairs, get our tickets scanned and run towards another waiting point. After some more waiting and mild frustration arousing amongst the crowd we were "released" and of course the crowd stormed towards the hall to get a good standing spot.
As usual I stood dead center of the podium on the second row for a better view. It took a while for the opening act Dragonforce to begin playing. The night before I tried listening to Dragonforce's music, but it was not my cup of tea. Not even when the band came on stage and started playing have I been able to get into the groove and enjoy one single song. I tried and tried, but just couldn't so I eventually gave up and just stood there. After checking my Facebook newsfeed I found out that I clearly was not the only one whom shared this opinion about the opening act.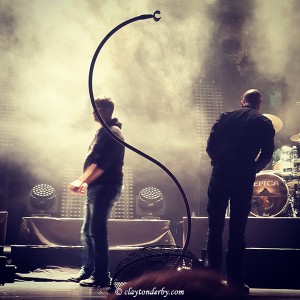 After a while it was over and it was time for EPICA. After the stage was rebuild with the band's instruments and the "The Quantum Enigma" stage decorations, it wasn't long before the lights were dimmed and the first notes of Originem started playing. Of course, the crowd went wild.
The band gave a spectacular true-Epica-show full of fire and explosions. The band was full of energy as always and Simone looked and sounded amazing. Mark Jansen even made sure that he recognized me in the crowd, which is always fun.
We were all surprised by the amazing varied set list from old to new tracks. The biggest surprise was Façade of Reality, which they haven't played in years and even claimed a few weeks ago that they forgot how to even play it. Façade of Reality of is one of my all-time favorite Epica tracks and I was super excited to finally hear it live. Another surprise was also The Last Crusade, which also hasn't been played in a while, and also the first time that I heard it live.
You can see the entire set list here:
Epica Setlist at TivoliVredenburg, Utrecht, Netherlands
I also found a recording of the entire show here on YouTube.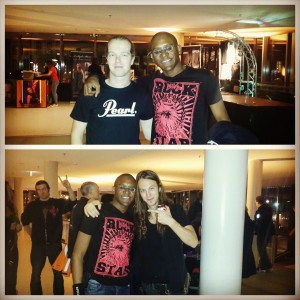 After the show it was time for the usual back pain and sore throat, but surely worth it of course. But besides that it was also time to greet some more friends and of course Mark and Ariën were there to meet the fans. It was nice to chat as always.
I took the last train back to Amsterdam, where I oddly enough had an interesting chat with this guy that was piss drunk and returning from Germany. lol