The next… and final day… we were invited again to the Floris Hotel for a tour around the hotel.
We got access to one room for viewing and I must say: wow!
Our hotel (Papagayo) was better, but this would not have been a bad place to stay at either… This would also have been the case if the hotel wasn't fully booked already.
The room we got to view was a very spacious, modern and clean room, that has a single-person-apartment feel to it. This room actually inspired me to get my own future house designed just in this way… once I can afford it obviously.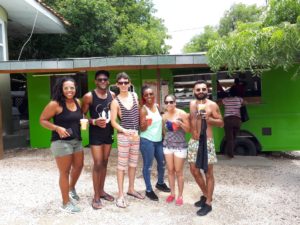 Beach Day
After the tour we went to Moomba Beach for the beach party. We found a place to us to chill and we went back and forth into the sea to have a swim. I must say if you want to avoid someone on this planet, Curaçao is NOT the place for that as we kept coming across the same people we have been seeing at all the PRIDE-related events. Very small island.
The beach party itself was quite fun and is exactly what you would imagine: a very hot sun, lots of sand, loud music, cocktails and people just having fun… which is what we did. Since this was also our final full day together it was also time to just enjoy each other's company.
Flavors
In the evening we went to FLAVORS of Curaçao, which is the event that the 2 Dominican girls were there for. FLAVORS is an annual food and beverages event that was hosted in the parking lot of the Hilton Hotel. Basically, all kind of food that you can find on the island can be found there… but mind you, this is mostly for tasting purposes, so don't go there hungry. Unless you buy food at each stand of course, but they serve small portions, that are just enough for you to have a taste of the flavor…. Aha, makes sense now.
But if I am going to be totally honest… in the entire event the best part which I liked where the shots that Starbucks served…. Seriously, I am at a food event and I was excited about the coffee… in my defense, I was quite tired, and had another party to go to, so needed energy. The mixture of alcohol and coffee was PERFECT and I think Starbucks should add this to their regular menu. Lol
All White Party
Last event for us on the island was the ALL WHITE party…
This party was in Club Spoonz. We were in the VIP area, which didn't feel all that extra, besides being behind a railing, but the party itself was good. The advertisement said that it wouldn't be just a party with a DJ, but would have a real local feel to it and that was not a lie, as I clearly felt that I was at a Caribbean party. The vibe was definitely there and the music was good. At the end we didn't want to leave, but the Dominican girls were too exhausted, so we all went back to our hotel. This was a perfect ending a nice short vacation.