The following morning, after our breakfast, we headed over to the Floris Hotel where we do a Jeep Safari hosted by Pink Curaçao. A few months ago, when I was already in Curaçao with work, we also did a Jeep Tour Experience. I didn't like that one much, as we were in open roof jeeps, the sun was blazing hot, we all got covered in dirt and the tracks we took weren't mellow…. Oh yeah and the white shirt I wore, never got white again…. So when I read that I was about to do the same again, I was not that thrilled and I wore the same not-white-anymore shirt just for the above reasons.
However, I must say that the second time was a loooooot better. For one, the jeep was not an open roof, the people aboard were hilarious (not that my colleagues aren't), and there was a hot shirtless Brazilian sitting across of me… what more could I ask for?
The roads we took were not that extreme as before and beside one road we took different ones, so it was not that repetitive. Also, we stopped at some cool caves, which have some eerie history.
In a nutshell, the cave is called The Witches Caves and this is where the slaves would come to perform their rituals and whatnot. Inside the caves there where many tiny bats, that if you remain still were harmless. Actually they were quite peaceful to watch, as long as you stayed still!
After the caves, we went to some cliffs and more scenic places and finally had a stop at the beach for swimming and spotting some sea turtles. Again, this was a place I had visited before during my office vacation so nothing new for me. But with this crowd of people, this beach day quickly turned into an Andrew Christian and AussieBum free commercial!
After the beach we were brought back to the Floris Hotel where we were picked up by Tirzah.
This time she was not alone, as there were 2 other girls from the Dominican Republic whom were also on the island for another event and they were also staying in our hotel (Papagayo), so they were added to our group.
We all went to have lunch at The Green House, located at Mambo Boulevard, which was this amazing restaurant where the hostess was dressed in traditional clothing and she basically spoke all languages, as our group did. Again, like many other times during this vacation, I had sea food for lunch. Started off with the calamari and had salmon (or Tuna) as a main course. It was yummy. It was very yummy!!
After lunch we were brought back to the hotel and I finally had 2 hours off. I really wanted to write these blogs posts in that moment, but my body was tired and I just needed to rest, so instead I tried to take a nap.
In the evening we had the rainbow lounge party, which luckily was by the hotel's beach, so we didn't have to be far. We all got dressed up and had a good time. The music was good, and the party was crowded. The bar's service sucked though. Clearly, they were not able to handle the crowd and ordering drinks took forever. Nonetheless, I drank enough and was feeling the music. This was the first moment that I would miss these guys the moment we would have to say goodbye… must have been the alcohol.
As the party died out, our tummies started seeking attention. Seeing how it was late and the actual reservation that was had was canceled, we went over to one of the famous Curaçao food truck (Truck di pan) – BBQ EXPRESS – to have some things to eat. I had the grilled chicken with sate sauce to eat. The sauce was so good and my mouth is watering as I am thinking back about this. After this late post-party dinner, we all went back to our hotel and I quickly fell asleep as my head was on the pillow.
---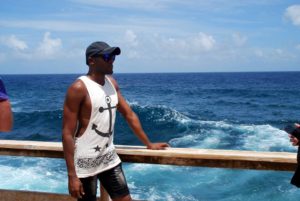 I wasn't posing or anything… Just enjoying the view.
I actually didn't even knew someone was taking a picture of me
You can see many more pictures from the Jeep Safari on the Facebook page of Pink Curaçao.