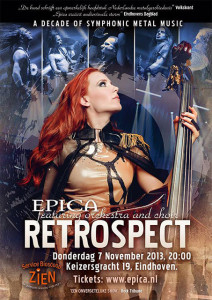 I just came from the Dutch "Epica Retrospect" movie premiere, which will be officially out on Blu Ray and DVD as of today (November 8th, 2013). The movie premiere was in Bioscoop Zien in Eindhoven.
NOW let the record show: I did NOT especially fly over for this movie premiere. Now THAT would be absurd – even for me. Haha. Nah, I had already planned to fly over to this part of the world in October, but that was not possible, until November. The movie premiere was also in November, so that was a nice bonus to be at the premiere of a concert movie that I had also attended 7 months ago.
The movie of course does NOT compare to the real feeling of that magical night on March 23th, 2013, but it was still very nice to be there and see all the loyal Epicans (that were mostly also there) again. Also very cool that the entire band was there (besides Simone). Got my picture taken with all of them and bought my signed copy of the DVD!