Each time when I'm driving in the car and this 80's song comes on the radio I notice myself singing to it I ask myself, "Wait, how do I know this track? I'm not a fan of 80's music!"
But there's quite a simple explanation for my knowledge of 80's music. If I know it, it's probably covered by some favorite metal band of mine :D. For some metal bands love to cover 80's music songs. I'm not saying that I dislike 80's music or anything, it's just not my cup of tea. But add some heavy guitar riffs, energetic drumming, a few grunts and screams and maybe a few female operatic vocals and you have my attention 🙂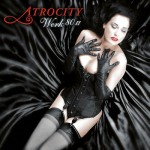 There are so many examples of metal bands that have covered 80's music that I could mention, but there's one band that does it all on an entire album. I'm talking about the German metal band Atrocity. They have 2 albums full of 80's music cover songs. I have the second one: Atrocity – Werk 80 II. It's a great album that includes such famous songs as The Sun Always Shines On TV, Here Comes The Rain Again and Forever Young. It's really good. Below you have a music video from that album. I've had this album for a while now and I really should get my hands on the first cover album from Atrocity.