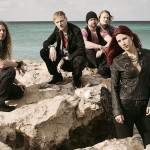 April 20th – the day that many Surinamese rock and metal music lovers have waited so long for. The day that the 4th edition of Unkies Open Air Rockfest would take place. This wouldn't be just any other Rockfest in this "small" tropical country; but this time we would have a special guest performance all the way from The Netherlands. None other than the symphonic metal band Delain would be live on stage… here… in Paramaribo.
At first we thought this was a hoax – I surely did – but this fact was very soon confirmed by the band themselves. I was very excited about this news. I have been listening to Delian for years now, but never seen them live before, but I they've certainly been on my bucket list. I was hoping to maybe catch them during one of their live shows when I was in Holland on one of my other Epica-adventures, but they never had a show while I was there myself.
I came THIS close to not attending the show last Saturday, due to some personal drama I had faced earlier that night. I'd rather not go into that. My life is just one drama pool. But about 1,5 hours before Delain was about to enter the stage I was finally able to go to the place where Unkies Open Air Rockfest 2013 was held. The place is a 7 minute drive from my house – and that includes a lot of speed bumps. I arrived around 23.00hr, bought my ticket and quickly found my way to the center of the crowd. Local rock band Apoplectic had just entered the stage and was giving quite a good show.
I was very impressed with the stage. It didn't do under of the other international stages I've seen. Very well done. I was quite worried, because this was my first Open Air Rockfest in Suriname. I had been to rock parties in Suriname before, and also at the same place this event was held, but it always on the terrace. I didn't know that there was a huge back yard. I was worried that they would make an international band like Delain perform on a small terrace and try to squeeze a bunch of people on it. Good thing that didn't have to happen.
Delain was scheduled to play at 00.00hrs. The band entered the stage after a few technical issues – typical Suriname – about 15 minutes later. But they sure made up for this, by giving a kick ass performance and by playing a lot of their well-known songs. They played all (or most) of their singles and the heaviest tracks that Delain has to offer. A full 90 minute set list of songs from all of their three full length albums.
A bit of a pity that a lot of people didn't know half of the songs performed. I think I was the only one that sang along loud to every single song and knew exactly when to clap or jump. Charlotte looked great and sang her heart out. I didn't notice a single flaw. Just at the end of Not Enough, where she does her operatic vocalizing, she was over-powered by the crowd that enjoyed the song, but didn't really know it. So they thought it was over, but she still had a 01.15 minute of angelic vocalizing to do. Oh well, at least I enjoyed it. 🙂
I did notice that the crowd responded very enthusiastic to the much heavier songs, which have grunts in it – which are only 2 songs to be exact. But also the non-grunts-yet-very-heavy-songs were very well received. Before you knew it a mosh pit was formed and people started stage diving. Honestly I have never seen this before in the shows in Europe. Then again, I've never been to a real festival before, just club shows. It was fun.
I don't remember which songs they performed exactly, but I will try to find a set list online soon. At the top of my head, from what I can remember, in random order, they performed:
Sever, See me in shadows, The Gathering, April Rain, Stay Forever, Invidia, Control the storm, Virtue and Vice, Mother Machine (they opened with this track), Electricity, We Are The Others, Milk and Honey, Get the devil out of me and Never Enough.
After the performance of Delain I stayed another 2 hours to meet the band members and I did. I got to meet all of them and had my picture taken with them. Below you can find my own photos, but soon I will upload taken by a professional of myself with the band members.
But to sum all of the above: DELAIN was in one word, awesome! 🙂