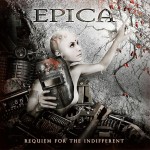 Just 100 days to go until Epica's CD presentation in 013 pop podium in Tilburg, NL.
Of course I'm very excited and dream of the moment that I will enter the hall and see my favorite metal band perform once again. Besides the concert, I'm also über-excited for what it's actually really about: the new album. The title of the upcoming album has finally been revealed last Thursday by the band:
REQUIEM FOR THE INDIFFERENT
This is from the official Epica website:
Epica's 5th full-length album which will be released on the 9th of March 2012 (13th of March for US) by Nuclear Blast will be called:

REQUIEM FOR THE INDIFFERENT

This title refers to the end of an era. Mankind can no longer stick their head in the sand for the things that are happening around us. We are facing many challenges. There is an enormous tension between different religions and cultures, wars, natural disasters and a huge financial crisis, which is getting out of control. More than ever we will need each other to overcome these problems. As we are all connected; the universe, earth, nature, animals and human beings, this period in time will be the prelude to the end for those who still don't want to, or simply won't see it. A REQUIEM FOR THE INDIFFERENT but also a possibility for a new beginning with great new chances!

Epica will present this album to the public on the 16th of March 2012, in 013, Tilburg (NL). Tickets are still available but are going out fast! Be sure to get your tickets in time HERE

Keep an eye on the official Epica website and social media for regular updates on REQUIEM FOR THE INDIFFERENT!!
Epica puts a lot of thought in their music and that's one of the reasons why I like them so much. They are not just "any other band" that randomly decides to write a song about a certain topic. Every song and albums has its own story.
Further, I'm also excited about other minor (but still interesting) things, like the actual album cover and booklet art, the official promotional photo shoots, the music video(s) and the stage decoration.
I guess I just have to wait a few more months.
The venue website also announced that the supporting act for Epica on March 16th will be Stream of Passion.
I was very excited to hear that news, because I also like SoP… at least, a few songs of them. The thing about SoP is, some songs are really outstanding, while the others sound quite similar. So whenever I listen to their albums, I often skip to the great songs and just ignore the others. But now matter; at the time of the concert I'll probably be so pumped up on adrenaline that I won't even care which songs they perform and which they don't.
Here's the latest Stream of Passion video: Collide
If you want to hear and even better song, be sure to listen to
Haunted
. It's my favorite Stream of Passion song.