It seems that I have been neglecting my blog. So much has been happened since the last time I put something down… so much that I don't even know where to begin. I think I will just start writing and see where this goes.
Last thing I wrote about was me coming to Rotterdam.
How did Rotterdam treat me? Better than Amsterdam? Hard to tell honestly.
This is the first time that I've really had the chance to explore Rotterdam. It's a very small city actually. The center of Rotterdam I mean. Everything is within walking distance. It is however a wonderful city. The perfect blend of modern and old architecture.
My map of The Netherlands is slowly starting to look very interesting. So many places visited and still so many to go to. Sadly, I don't have all the time left.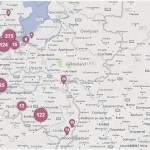 Last weekend I went to Eindhoven for Epica. Which was obviously EPIC. Best show EVER. I will have to write a separate blog about that, because it will take up too much space here.
That night I slept in Reuver at a friend's place and the next evening we went to Roermond for another concert (Serenity and Visions of Atlantis). That was also another great experience. Will blog about that too.
After that I stayed in Rotterdam for 1,5 day and was on my way back to Amsterdam where I had to meet up with Jeroen. We went to play Bingo…. Yeah, you read that right! Bingo! Since I'm 25 and old now, that's the sort of thing I do for fun…. Lol
Just kidding. We did play Bingo, but it was really fun. That night's fun soon ended as I realized that I had lost my camera. I was in panic and was totally not looking forward to invest in a new camera. Luckily for me, my camera was found by the barman, when I called the next afternoon and described were I had last seen it. It was still in that exact same spot. Lucky me!
Right now I am back in Rotterdam, because I had a date (?) of some sort. That went well. Just after that I started getting a typical-Clayton-like-panic-attack. The real source is still unclear to me. Or maybe not. I am not sure. I just started thinking about everything and nothing and started panicking. My life, work, school, love, money, debts…. A LOT of things.
After talking with Patrick, who knows how to pick my brain, I was able to calm down a bit and turned on my laptop, watched a few series and later did some school work and other things, like write this blog.
So more blogs following soon. I think I just wanted to pen this down. It's already 5.30am here. I'd better go to bed.