As I mentioned before in the previous blog, the day after Epica's show "Retrospect" I crashed at Sharik's (Mc Sharq) place in Reuver, because the next day we were going to attend a show from Serenity and Visions of Atlantis in Roermond. I first was a bit reluctant to go to the show, because both Serenity and VoA have a new album out and I assumed that they would perform lots of songs from those albums and I hadn't listened to them yet. And I hate going to a show and not knowing any (or at least most) of the songs. But on the other hand I thought, "I'm on vacation so what the hell".
I slept on an air mattress in the living room. I never expected an air mattress to be that comfortable. I fell asleep within seconds and slept like a rock. That could also have been due to exhaustion.
In the afternoon Sharik, Simone V (who was also staying at Sharik's place) and I drove to ECI Cultuurfabriek where the show of Serenity and Visions of Atlantis was. I clearly could see that this was NOT an Epica concert. There wasn't a long line outside, the venue was small and you could basically count the number of fans. On the other hand it was great to be in a small crowd after such an exhausting (but bloody amazing) show the day before.
The show was opened by this rock band, which I had never heard of before, called Souldrinker, that didn't amuse me very much. Let's just say there music wasn't really my cup of tea. So I didn't mind when they announced their last song.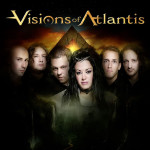 Next on stage was: Visions of Atlantis.
I like VoA. I actually liked their second female singer best of all 4 they've had so far. But I knew that they would perform some of the older songs too, so I would enjoy anyways. The show was actually really good. They didn't play too much of the new songs, so I still knew the majority of the songs. Despite my back killing me from the show before, I was able to enjoy myself.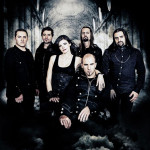 After VoA it was time for Serenity.
This was also another great performance. They played both old and new songs. Half way during the show I did need to take a quick break to sit down, because my backache was almost unbearable. But great show and I was glad that I went along anyways.
When the show ended, I and the other 2 didn't stay to meet the band or anything like that, but immediately left. We were all just too exhausted. We bought a kapsalon to eat at the house, watched a movie, fell asleep in front of the tv – at least I did – and later just went to bed. The next day Sharik brought me to the train station in Reuver and I made my way back to Rotterdam. A great weekend full of symphonic metal music. 🙂
Professional pictures can be found here:
Souldrinker | Visions of Atlantis | Serenity
I couldn't find the set list of the show in Roermond, but did find one of another show from the same tour, so I guess it should be the same set list.
Visions of Atlantis | Serenity
On our way to ECI Cultuurfabriek