If the world really were to end tomorrow I wouldn't care much, because at least I know that I died happy. At least I've lived to see EPICA perform live. At least I was able to cross of a few more items of my bucketlist:
– See EPICA live in concert
– Meet Mark Jansen
– Meet Floor Jansen
I'm still in disbelief of how amazing yesterday was. But somewhere I know that it was all real. Unbelievable, but REAL!!!! I had the night of my life. I've had the full concert experience: met the band, had a picture taken with them, autographs, fetched their stuff, made new friends, bought official band merch… and memories that will last forever! 🙂
Let's start at the beginning of the day.
I woke up early around 11.30 AM by a phone call from my uncle (dad's side of the family), whose digital camera I borrowed for the show, 'cause as I already mentioned in a previous blog I forgot mine back at home. After that I went back inside to shower and get myself ready.
My uncle and aunt (mom's side of the family and the ones I'm staying with) weren't home, because they had to rush to the emergency room because my uncle wasn't feeling well. Turns out the medications he was prescribed for his liver infection he's suffering from weren't working correctly. This could have ended fatally if they didn't rush to the emergency room. Luckily he's feeling better now.
After I got dressed… accessorized with my EPICA wristband and necklace… I went to the Albert Heijn nearby to get myself something to eat and drink to prevent myself from fainting during the show. I wasn't sure what to expect or how I would be overwhelmed, so I had to take precaution.
A lot happened in one day. If you're on my Facebook you've probably read most of these stories. Here's what happened to me in the supermarket. As mentioned above, I bought myself a quick pick-me-up dinner and a bottle of Smirnoff. The lady at the counter asked my age and I said I'm 23. She went: oh :-S and I asked her how old I looked and she said: 18 🙂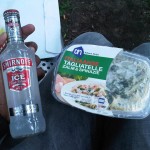 After the quick dinner I went back "home" to quickly eat and officially head to Paradiso. Unfortunately the pasta tasted like crap and I wasn't able to get it down my throat. And before I was about to vomit I threw it away and just made my way to the subway station instead. In about 30 minutes I got out at the Amstel Station and took the tram 12 to Leidseplein. By the time I I arrived my bottle of Smirnoff was already empty 🙂
The crowd in front of Paradiso wasn't big; after all it was about 2-3 hours before the doors would open, so I decided to rush down to Burger King around the corner and bought a cheap menu and rushed to the venue again. I ate my "meal" while listening to the conversations of the fans around me. When I was finished eating I mingled in the conversation between this Dutch and Hungarian guy. They were amazed that I traveled all this way especially for Epica, but I soon discovered that I wasn't the only crazy fan. There were fans from the US, Spain, Hungary and from other European fans. Yes, that's the power of EPICA! 🙂
Eventually I also made friends with this guy from Spain who forgot to buy a subscription to enter Paradiso. But he went around the corner to a Ticket Master and still managed to get a ticket. So it was me, the Hungarian guy (Laszlo), the LA girl (Rachel) and the guy from Spain waiting for the magical doors to be opened. Rachel knows people who know people, so eventually she left the group, because she was going to be in a special corner where the press gets to stand. We didn't mind of course.
At 18.30 the doors to Paradiso opened and we all rushed inside. I dropped my bag and coat off at the corner for that and as usual I had to pee so went to the toilets.
I then entered the main and there met my Hungarian and Spanish friend again. So it was us three guys, nearby the stage. Not to close, because the stage is high and we wouldn't have a good view, so we stood about 2 rows in front of the stage. There we had to stand and wait for the opening act MAYAN to play.
MAYAN is a new band. It's a side-project of the founder/guitarist of EPICA, Mark Jansen. And this show was the release party of their album. So they performed all or most of their songs.
In MAYAN Mark is not with his guitar and all eyes are on him. It was strange to see Mark without a guitar; he mentioned it himself, BUT…. He did an AMAZING job!!!!! No doubt about it.
Simone Simons (from Epica) also does some backing vocals on the MAYAN album so I saw her before EPICA actually came on stage, but she stayed on the background. She does female backing vocals alongside of Floor Jansen of REVAMP and AFTER FOREVER…. Another favorite singer of mine.
MAYAN's music is amazing. They totally rocked the stage. I didn't know any of the songs, besides one, but still enjoyed them a lot. Also they have an Italian opera singer Laura Macrí on a few tracks, and she has a great vocal range. I totally loved it and totally am buying their album.
During one of the stage, Mark opened a bottle of water, took a few sips, sprayed the bottle over the crowd and made us all wet. He then threw the bottle in the crowd. My new Hungarian friend caught it, but gave it to me. That was the first concert evidence I had.
Also the male singer who does the clear vocals for MAYAN gestured to me during the show and then I gestured back. And he put his thumbs up that he was looking at me. I almost went nuts at that point… little did I know that the best was yet to come.
At 21.15 it was time for the main event… EPICA
The intro music "Samadhi" started and the crowd went wild. The first song they played was "Resign to Surrender". I honestly don't remember which songs they played, but their most famous ones they did and I must say… even after having watched tons of Youtube videos they are even better if you see EPICA perform live. EVERYTHING WAS AMAZING!!!! The fire, the smoke, the pyro effects, firework, explosions, the light effects…. In one word: EPIC!
They also did an awesome disco remix of their song The Phantom Agony. See the video which I found on YouTube below.
Other songs I remember them playing are: Sensorium, Cry for the Moon, Tides of Time, Consign to Oblivion, Kingdom of Heaven, Fools of Damnation, Martyr of the free world, Unleashed, Sancta Terra, Quietus, Illusive Consensus…. Uhm, that's all I honestly remember. There were more. I'll get back on the setlist.The highlight of the show (for me) was when Mark spoke in the microphone and pointed to me. He said he recognizes me from facebook and that he knows that I've flown over all the way from Suriname for the show. Whole Paradiso cheered me on. I was in total shock. That was awesome and I'm surprised I didn't burst out in (happy) tears.And not to mention that Simone Simons is even prettier in person. The entire band rocked the stage. I enjoyed every moment and wouldn't mind seeing Epica again and again.
At the end of the show the band started throwing some merchandise in the crowd. Mark took of his wristband and threw it in the crowd…. And who fetched it? I DID!!!!! 😀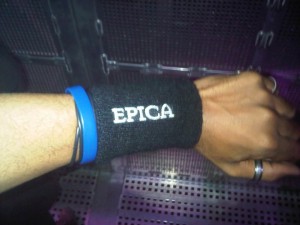 After the show I lingered around to buy some official EPICA merchandise.
And guess who was in the crowd? Yes…. The EPICA band members. Most of them anyways.
So I went up to all of them to talk and take pictures. Especially Mark I had to talk to and thank him for putting me in the spotlight.
I also met Floor Jansen. She's really tall in person. Sadly, Simone didn't come out in the crowd… now if that happened I would have literally DIED out of excitement!  But I understand why she didn't. A mega fan frenzy might have occurred. I know I will still meet her one day!But the night wasn't over. Henning Brasse who I mentioned above came up to me and said he saw me enjoying me in the crowd. And I was totally honored. How often do the singers walk up to the fans? Usually it's the other way around!
Gosh, I can't believe that all of this went down. It's finally starting to sink in. to think that this almost didn't go through. To think that I almost didn't fly off here anymore. To think that I wouldn't have met all these amazing new people, that I would have never met the band… but I did. And it's all real. And I have no words to explain how content I feel right now. As I'm sitting and writing this story I can feel my eyes burning and tears rolling down my cheek…. All happy tears. It was all worth it…..WORTH capital I-T.
I am in a state of eternal bliss…
———————————————————————————————
FUNFACTS:
I have: Camera: 127 pics + 5 videos and Blackberry: 143 pics + 6 videos
Photos with: Mark, Floor, Ariën, Isaac and Henning Brasse
3 new friends from Hungary, Los Angeles and Spain
Autographs: Mark and Ariën
Fetched: Mark's wristband and bottle of water
The music was too loud for the digital camera or blackberry, so in the videos I took you only hear an annoying peeping sound.
The shirt I wore to the concert was a birthday gift from my brother and his girlfriend. This was the first time I've worn it.