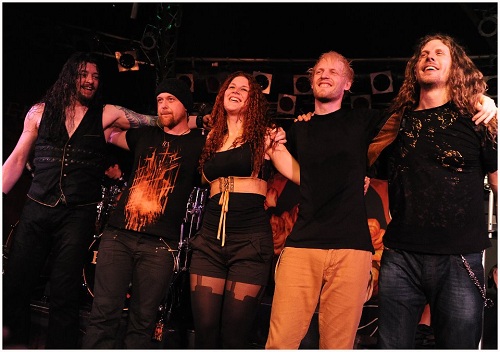 Today I heard some very surprising, but pleasant news. One of my favorite Dutch symphonic metal bands is coming to Suriname for a show; Delain (see www.delain.nl). I already heard the news from a friend on Facebook yesterday, but I didn't believe it. Even when I saw a promo video online, I still was skeptical, because I didn't see anything about the show on the official website. And also I was thinking: why would a band like Delain, that was performing three weeks ago at the 70.000 tons of metal festival, that has been one of the bands to perform at The Female Metal Voices Fest, that have performed in Moscow, Budapest, Barcelona, Munich, Nottingham and so many other places, where I've never been myself, ever want to play in this "little" unknown country in South-America?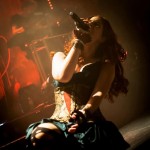 I sent the singer of the band, Charlotte Wessels, a Facebook message as soon as I saw the video, and she confirmed the news herself this morning. Later I also saw the news appearing on the official Delain website and Facebook page. So it's true! Delain, the symphonic metal band from Zwolle, The Netherlands is actually going to perform here in Suriname on April 20th, 2013.
Read the announcement on the Official Delain website.
Read the announcement on the Official Facebook page of Delain.
*faints*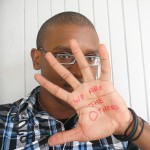 I am very excited, because Delain is also on my bucket list of the bands that I want to see live. This surely saves me one trip to Europe. I admit, I'm not as obsessed with Delain as I am with Epica for example, but Delain surely is one of the bands that I listen to on a regular basis. I love all their 3 albums and there was a period when the last album We Are The Others was constantly on repeat. I even took part in the We Are The Others Photo Project by Delain. See the photo of me here on the right. My photo is also uploaded in the album on Facebook.
So it's true…. Delain is coming… the first international (female fronted) metal band to come and I'm very excited. See the promo video here.
NOTE: The video is quite exaggerated though! Because Uncle Bunker is just a tiny terras, and not even close to a festival, but nonetheless: I can't wait! 🙂