They say that three time's a charm… that's exactly what I thought when I was on my way to the international airport on Monday evening. I said to myself: "This time it can't go wrong. No, it won't go wrong. By this time tomorrow you will be in Holland. On Friday you will be standing first in line in Poppodium 013, in Tilburg. Just as Dominique said to you: 'By Wednesday you be smelling the Dutch air'. Everything will go according to plan."
Sadly, all those self-comforting words have all been in vain.
The way this trip went – or maybe I should say 'the way this trip did NOT go' or 'the way it ended' – sounds like the script straight out of a movie without a happy ending. Seriously things like that don't happen in real life, right? Apparently they do.
Maybe it would be best if I start at the beginning. However, part of the story you may have already read in a previous blog post: "A new kind of traveling drama", so I can skip that part.
Day 1: Wednesday, march 7
After checking in and waiting to board the plane I was called to the information desk, along with a few other passengers. It was announced to us that they would have to cut a few passengers of the list, because they had too much cargo and the airplane was too heavily-loaded to leave the ground. I was one of the 15 "lucky" ones that were cut of the list for that flight.
I think maybe they just wanted to tell me that I'm fat and sugar coded it with some lame excuse. *sarcarm*
Day 2: Friday, march 9
I was suppose to go back on Friday to see if I could leave, but it was not certain that I would – which in the end I didn't – because the flight was already fully-booked, the other stranded passengers from Wednesday and a few passengers that needed to fly to Holland for a funeral were all on the list to leave.
I honestly didn't have much hope when I saw the line of stranded passengers, but thought to myself "maybe, just maybe". In the end I didn't get to leave after all. None of us did. By "us" I mean the group of 15 stranded passengers. The next flight to The Netherlands was on Sunday evening.
On Sunday I did NOT even go to the airport, because I had already heard that the flight for that evening was also fully-booked. Good thing I didn't, because I wouldn't have left; more people for the funeral in Holland had to leave.
Day 3: Monday, march 12
In the morning I called to see if it would be okay to try to fly to Europe again. They told me yes, because it was finally okay for the stranded passengers to leave.
At the airport I still had to wait along with the group, but as soon as the people that were actually scheduled for that flight checked in, the rest of us got to check in. I was very relieved. I let out a deep sigh and was rushing myself to the immigration as soon as I had my boarding pass in my hand.
Finally, finally…. Yes, yes… Epica… my Dutchie friends…. Fun… vacation… Damn, can't this line go any faster?…. Epica…. Holland here I come… Yes….
When I handed out my passport to the woman at the immigration desk I got slightly irritated when she asked if I was going on vacation or if I lived here (in Suriname). I was starting to get irritated, because isn't that sort of information written down in my passport? I put on my friendliest face and said that I was going on vacation. She said: "I'm sorry sir, but your passport will expire in 3 months". That didn't say much to me and I lied and said: "I know. I'm not going on a long vacation. I will be back in a week."
She said: "Yes, but your passport needs to be valid for at least 6 months in order for you to travel!"
Me: "huh?"
She turned to her superior and he said: "I'm sorry sir, but you won't be able to leave the country!"
In my head: "ARE YOU FAWKING KIDDIN' ME??!!!!!"
In reality: ……………………………………………. <silence> …………………………………..
He sent me back to the lady at the check-in desk for further information. I rushed over to the check-in desk where the last 2 passengers were checking in. She said that it's true what the immigration said and apologized for not having checked the expiration date herself before checking me in.
I demanded that they would do something ASAP, because I was NOT about to miss this flight. I would NOT miss Epica on Friday. No way, no how!
Instantly a bunch of crew members started ringing up people. They even ended up talking to head of immigrations and the head of the airport. Eventually the head of the airport gave me permission to leave. I would simply need a permission form that stated that I will not be out of the country for long period. However, the guy at the immigration desk didn't want to put a stamp in my passport, because he didn't want to get in trouble. And said I would NOT be leaving the country. Or if I did, there was a big chance that the Dutch immigration would send me straight back to Suriname.
Eventually I had to give in. I was out of words.
I called my driver, got my bags, which were already on the plane and made my way home in silence. No words were exchanged between the driver and me. I wasn't feeling anything. I knew that it was all over, but I didn't know what to say or feel.
When I arrived home, I unpacked my bags, stored all my clothes back in my closet and went online to deliver the sad news to my friends awaiting my arrival in Holland. I had decided to cancel the trip. I am a firm believer in fate and I think that this was NOT meant to be. Not for me. Not now.
I also emailed the band members of Epica to wish them lots of luck on Friday and to tell them that I wouldn't be able to make it. A few minutes later I received an email back from Mark Jansen (guitarist, grunt/screams, main composer and founder of EPICA) who said that he was sorry to hear the news and wished me lots of luck a next time. This was already a HUGE comfort to me.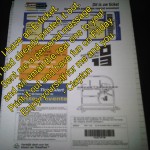 Next thing I did was post an advertisement on Facebook that I was giving my concert ticket away for FREE to whoever mailed me first. Initially I wanted to give it to a friend of mine, who is also an Epica fan, but she wouldn't be able to make the show for several of reasons. Instead my ticket went to the brother of a Facebook friend who actually only added me a few days ago. We don't know each other and he actually randomly added me. But as I already mentioned, I believe in fate and maybe I was supposed to make someone else happy. I emailed the e-ticket to him yesterday and I made him promise that he would have the BEST TIME OF HIS LIFE on Friday. And I also want a full report of the concert.
The next day I got some more comfort when Coen Janssen (keyboard player of EPICA) replied to my Tweets. There's nothing they can do for me, but I could feel the sympathy and if they give a damn good show on Friday –which I'm sure they will – I will be content.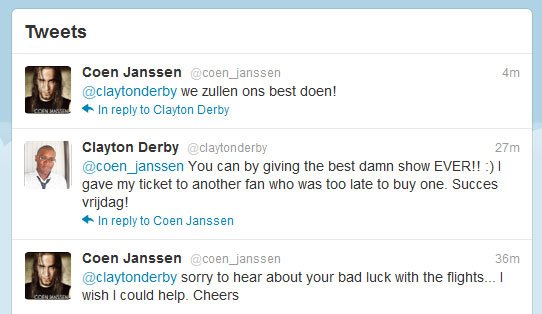 Sadly, I will not be seeing EPICA on Friday, although I've been waiting for months for the day to come. I remember when the show was about 100 days away. Now it's THIS FRIDAY. Oh how I wish I could attend, but it's not meant to be.
The first thing that jumped to mind after all of this happened was part of the lyrics from the song "Monopoly on Truth" which is the first track on the new album after the intro. I think these words TOTALLY apply to the whole situation and honestly this is what makes me gain my sanity at the moment:
If you look all around and you see
All the things that are not meant to be
Then you know it's time to let them go