Well my dear friends, sadly my dream adventure of flying to Hungary had to be placed in the freezer just a few hours before I was about to fly out. This was partly (or mostly) my own fault, but it didn't had to end like this if certain people had a bit more confidence in me.
The thing is as I was calling back home to Suriname to announce that I was leaving for Budapest in a few hours it ended up in a very big family drama and lots of phone calls from home with reasons why I shouldn't go. Reasons such as: it's a strange country and didn't know anyone there. Also that I wasn't allowed to fly with the traveling visa I have. Which all isn't true, because with my visa I am allowed to travel to all the countries here in Europe that are part of the Schengen Area (link: http://en.wikipedia.org/wiki/Schengen_Area) and YES, Hungary is part of that area. I informed all of this long before the trip was officially booked.
The part where it is my fault is that I have wanted this for months and have been planning everything down to the details, because I didn't want to get myself in trouble of course, but should have maybe notified the family earlier. Maybe if they saw that I had taken care of everything they would have been a lot more understanding. Now they do, because I have sent them all the links, websites etc. which I had used to make the trip possible.
Sadly I was not able to convince them in time before the flight and decided to grant them their wish and just stay here in Holland. I was very bumped out and instantly started feeling ill. I had cramps in my stomach and felt lightheaded. I was hoping that it would pass or else I would have gone to visit the doctor on Monday morning.
On Sunday evening, the night of the Epica show in Club 202, Hungary, I was just about to go to bed and I saw that I was tagged in a few photos. I had no idea what to expect so I opened them. I was tagged by my buddy Laszlo living in Hungary. The photos you can see below.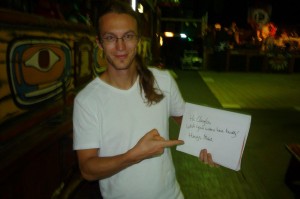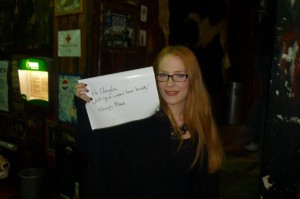 That is Simone and Mark from Epica. Mark was aware that I was traveling to Hungary, because I had mailed him shortly after I had arrived in Holland (or was it before…. I don't remember). But Laszlo had also spoken to him. I felt so excited and very much in shock too. Somehow my spirit got lifted and I instantly felt better. No more pains. No more upset stomach.
In case you're wondering why I didn't tell my family sooner, it's because I like to shock or surprise people. Just like barely anyone was told about my trip to Holland, that's exactly the same I wanted to do with the trip to Hungary. It just seemed a lot more exciting in my head to send photos of myself in foreign place. #FAIL
But things with the family have been cleared up and talked thoroughly.
So next year when Epica will be touring in Hungary again (as they said they will be doing) maybe I can fly over and everything will go as I wanted it to this year.