Finally I am (almost) there.
And to think that I almost didn't make it. My journey to the Epica concert has begun.
I came this close to not flying to Amsterdam anymore.  Let me tell the whole story.
In the morning my dad bought my ticket, but he prepared me that it wasn't certain that I'd be leaving that same day. The flights were overbooked with the low ticket prices these days, so I shouldn't get my hopes up. I mentally started to prepare myself for the worst. Later that day my dad called me again and asked me if I wanted to cancel the trip and travel another time, because there were 5 overbooked places and it didn't look positive.
I said I didn't want to. I wanted to leave that day. He hung up, but called a few hours later again. He told me the flight was definitely overbooked and it would be best to cancel the trip. Or if I wanted I could wait until 17.30 when a colleague of my dad would call him, because at that time the airport personnel would have a better insight on the seating. I said I'd wait. My dad once again thought I was stubborn of course, but I wasn't giving up just yet.
Although I had secretly had given up hope, and a few tears already started to fall, because I could literally feel a dream dying. I already notified my friends that I wasn't leaving and switched off my phone, 'casue I wasn't in the mood for sympathy messages. However most of them still care and one even was able to reach me on my home number. So much for trying to be unreachable. lol
At after 17.45 I received a phone call that it wasn't going to happen. All I could say was: okay.
So within minutes I started to unpack and texted my friend to see what he was up to. He was at school, so I was waiting for him to bail out of class so I could drive over and drown my sorrow with a few glasses of rum at his house. I was literally broken down. To comfort myself I started playing Epica's live album and imagined what I was about to miss. That was the mayor outburst of tears for me. My eyes were red and my head hurt like hell. I felt my entire world crashing down. The failed love attempts, the many concerts I've wanted to attend, but never could… well, except last year's… the plans I usually make and fail most of the time. I felt like a complete and utter failure. I was ready to write this seriously depressed blog, when my dad burst in my room and told me to get myself ready, because if I could be at the airport within 1 hour I could leave.
I had no time to shower or even freshen up. I just grabbed my bags from under the bed, opened my closet, grabbed 3 shirts, underwear, socks and my schoolbooks. Grabbed my laptop bag and ran to the car. Luckily my dada's Mazda B1500 pickup has some mad driving speed, so we drove at a speed of 100-120 km/h on a road where the maximum driving speed is 50 km/h. As we drove I realized that I left my high-tech-specially-bought-for-this-trip-digital-camera at home. Motherfluggenshizb@lls >:-(
Halfway on the road we called the airport and they'd said they would hold the plane for me.
When I arrived at the airport the doors to the check-in hall where closed, but as soon as I mentioned my name I was let in. I checked in, received my boarding pass and rushed to the passengers lounge. As I entered the economy class passengers where already boarding. I quickly ran to the tax free shops to buy a few gifts and ran to the Sabaku Lounge to have a drink and something to eat. As soon as I sat down they called for the business class passengers to board.  All I could do was shot an entire glass of Smirnoff mixed with a cherry softdrink; which explains why I was feeling so cheerful as I boarded the plane.
I didn't have much time to explain so I just sent a Blackberry broadcasts to my friends that I was leaving and left a quick facebook update. My heart was thumping at rapid speed and I didn't start calming down until we were in the air. We had a short delay, because some woman was arrested and here bags had to be taken out of the luggage cabin. Which would take about 20 mins. Also there was a technical problem with the toilets, which didn't want to flush. So it was around 23.00h before we finally took off.
Once in the air I went to the bathroom to freshen up. Good thing about business class toilets: they have everything you need. Haha…  Though I don't know what the whole fuss was about, because the seat next to me was empty. So I was able to sleep comfortably in years again in an airplane.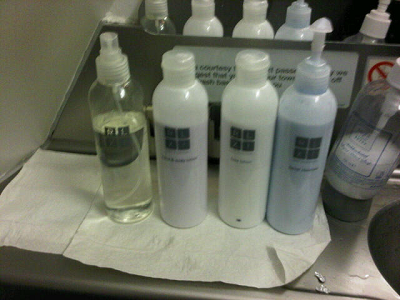 So here I am at 35.000 feet; the journey isn't over yet and I won't feel save until the airplane has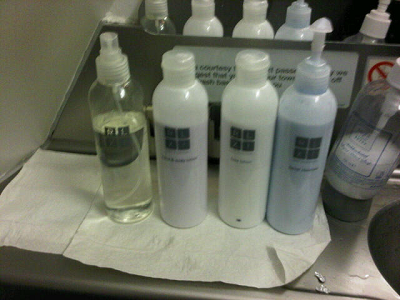 touched Dutch soil. We are flying now above the United Kingdom and if you're reading this it means I've landed safely. That or my laptop was found amongst the remains of a plane crash xD
—–
A few hours later…
15.30h – Amsterdam, NL
I'm sitting in the room that's going to be mine for the next few days. I only arrived at "home" an hour and I honestly already feel like going out. I want to shower, but have no idea where my clothes are. See when I was here in October last year I left all my clothes I had brought with me here, because 1. I had too many stuff and 2. I knew I'd be back in The Netherlands very soon again. I love to travel and frankly I am able to afford it now. I'm single, work hard and study hard. Why am I not allowed to take a few short breaks on the other side of the ocean?
About the clothes finding those clothes. My uncle is at home, but I doubt he knows where they are so I'll just wait for my aunt to arrive, which she should be doing very soon now. I'm bored so I grabbed my laptop and decided to write this part of the blog.
I just called up one of my Dutch friends, but I got his voicemail, so I'll wait for him to call back. Now to go into my facebook and gather my other local friends. I'm not sure if I will go out tonight already, because I'm a little tired and I have a Datastructures task to do for school and email it to my teacher. I thought I'd stay in today and do some schoolwork and tomorrow I shall explore the city.
Then again I've been here in Amsterdam and there's nothing new to see, but I still love it and will come here again and again. The concert is in 2 days and tomorrow I'm going to Paradiso already to locate it. On Thursday I want to be really early so I'm going to locate it now so I won't have to search and be late on Thursday.
It really bumps me out that I forgot my camera. I packed the charger, but not the camera. lol. What's the use huh? So I guess it's going to be Blackberry photos during the concert. My BB bold has a pretty good camera so I'll guess I'll be fine.
Ugh, okay I really need to take a shower now.
*logging off*