This weekend turned out to be quite a bit better than I expected it to be.
On Friday night I received no usual "what are we doing tonight" text messages from my friends, so I expected that there were no party plans for that weekend. So I grabbed a book and started reading, but I did want to go out. Especially since the week before when I had a week off I really wanted to go out, but no one responded to my messages. Later I did find out that there were plans made with other friends, so I was a bit bumped out.
After a while I was a bit tired of reading… still no messages… midnight drawing near… I then jumped in the shower and got myself ready to go out… on my own.
I've never done this before in Suriname (only when abroad). I first had a few sips of red wine and made my way to my friends and I usual watering hole. None of my usual friends where to be found only a few other familiar faces. I tried to socialize a bit, but was still wondering where the rest was. Found out via social media that they were at the usual Friday evening dance club, so by 1 am I made my way there.
By that time it didn't even matter where everyone was and we just had a good time, with some new and old friends. Close to 5 am we had the crazy idea to go skinny dipping, just like we did a couple of times last year, far out of town in one of the creeks. We did so and eventually returned back to the city when the sun was already up. I arrived home at 8 am and made my way to my bed as soon as possible. Slept until the afternoon.
Later one of my friends wanted to meet up again, but I was still beat up that I just fell asleep before I could get myself ready. I slept a good 10 hours.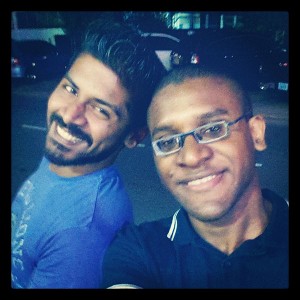 The next day wasn't really that interesting – lied mostly in bed again – but went out to watch a seminar at a local business fair. Which was quite fun. 2 friends of mine were also there and we later went to eat at a recently opened Chinese restaurant. A few more drinks and hanging out and I arrived home just before midnight. My body wasn't tired yet, so I didn't go to bed until close to 2 am, where I was resting my head to start a new work week.
So a weekend, which I had planned to lie in bed and read all weekend, turned out to be a little more interesting after all. Until next weekend. 🙂