Date: February 6, 2016 – Almere and Enkhuizen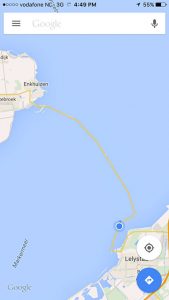 The following day we drove to Almere to visit my aunt that lives there. I needed to bring a few things over, which I brought from Suriname and she also knows Farid from a long time ago and this is the first time they saw each other again.
After the visit in Almere were drove to Enkhuizen. A place I have never visited nor heard of before, but it was very historical to put it in words. The entire town looked like a damn painting.
We also visited this pub that has an official "hofleverancier" status. Places with this status are places that have been visited or provided services to the Dutch royal family.
So wait, what? I peed in the same toilet as the current reigning Dutch King? Awesomeness! 😀
Date: February 8, 2016 – Artis Zoo and Rijksmuseum
As the day went by Ryan and I kinda did our own thing. He went to visit family and I just wandered around doing either nothing or going on casual dates. Hey, I am a single guy, just living his life. 🙂
On the morning of February 8th we decided to go to the Zoo. I hadn't been to Artis Zoo in more than 10 years. I think last time I was there I was 12 or 13. So it was nice to visit again. But it's a zoo and still the same as I remembered, but nice to see all the animals that you do not see every day up close.
After the zoo we went outside to Micropia. I have never been there before and I also do not think it has been there very long. But it's big high tech microscopic museum. Thing you never even new existed you see. Did you know you have bacteria on your eye lashes? Neither did I until I saw them myself.
Micropia also had a sort of a scavenger hunt where you collect stamps. All the stamps form an image. We didn't complete it. Haha.
After the zoo we met up with Farid's BF at The Rijksmuseum. He seems to REALLY know his art, so he made a good tour guide. This museum is a place I have never been before, although everyone recommends it. Actually this whole trip (to Holland) is the most tourist-y I have ever been.