So it finally happened… I turned 30 last week… the HORROR!!
I am just joking. It's actually not that big of a deal to me and I actually do like my birthday. Since you only turn 30 once, I decided to throw a party… but this was not going to be just any regular birthday party… I mean, come on, have we met?!
Party Planning Stress
So it turns out that party planning is a lot of stress. If I had millions of dollars to spill I would have just hired someone to organize the entire thing and let them deal with all the stress. Since I don't… I had to plan it all myself.
I had this idea for a karaoke birthday party for a while now. As you know, I love karaoke, despite the fact that I cannot sing. I also wanted a photo booth for memorable, crazy, drunk pictures. I also didn't want every day decorations, so I went on Amazon and order all the decorations, photo props and whatnot that I needed.
As the day to the birthday party came closer I started to stress a lot more. Everything costs a lot of money and it's a lot of phone calls, emailing and driving places to arrange things. Also I was stressing out because up until 2 weeks before the party the things ordered were not here yet, due to a delay in delivery with the holiday season. But luckily the arrived just in time, so I could ease up a bit after that.
During the planning period I had a few times where I came THIS close to blowing off the entire party and just plan a trip abroad… I luckily know enough people that could help and advise me on things, so once that stress was lifted and I knew exactly what I wanted and needed the party could officially be organized.
The location I had picked was Hotel Babylon. A small, but gorgeous hotel that is not far from my home. I visited that place 2 years ago for the first time and it had left a lasting impression on me. As I was looking for a location for the party, I somehow knew that this would have to be it.
Actual Birthday
On my actual birthday, February 1st, I didn't do much of celebrating, but mostly drove around doing some shopping and ordering stuff for the following day. In the evening I went to my best friend's house were we peeled 12kg of potatoes for mashed potatoes. We drank a bottle of champagne while doing so, but that was the only kind of celebration.
When I went home I still wanted to create a playlist for the party and test the karaoke stuff, but my friends advised me to go to sleep. As I get older I cannot pull those all-nighters anymore. And it was about to be a long day so I could use all the sleep I could get it.
Pre-Party Stress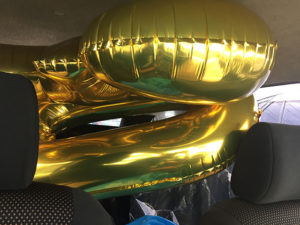 On the day of the party I made sure to leave the house as early as possible. First to help Dominique make the mashed potatoes, then I had to pick up wine glasses, do some more shopping, get those helium balloons filled and I also had to drop by the office to ask Ryan for help in picking up the stage for the karaoke and some extra party chairs and tables for the guests. Also I still needed to buy some wine and not forget the strawberries. By the time I had done all of the above it was already close to 16.00hr… thanks to the disastrous traffic that day.
When I arrived at the hotel, I had the help of a couple of friends with the decorations. I instructed how and where I wanted things and was climbing up chairs myself also to hang stuff here and there.
As it was getting near 18.00hr I knew I needed to head home gather and iron my clothes or else I would be late. I also had a few more things at home that I needed to bring along with me. So I went home, rampaged my closet, ironed my clothes, put them in my carry-on bag and drove to the mall.
Why the mall you ask? Well the white dress shirt I wanted to wear was kind of small so I called ahead to a store in the mall to have a white shirt in my size ready for me. I fitted it and then had to drive back home to iron that new shirt and also pick up a few things that I forgot.
When it was nearly 21.00hr, one hour after the time that the party was about to start, I think I arrived at the hotel again. Luckily there weren't that many people yet… mostly my colleagues… but I still needed to shower and get ready. Luckily my colleagues and friends picked up the food department themselves and started setting up the bar, preparing the snacks and heating up the chocolate fountain.
So I finally entered the bathroom, showered and then I wanted to shave…. But I forgot my razor at home… next I called my brother to quickly bring a razor for me, but the people downstairs were started to get impatient at I hadn't showed my face yet. So I decided to just finished showering, get dressed and just show my face… and go back later in the room to shave.
That new white shirt I bought earlier that day turned out to be too big for me after all, so I decided to wear my original shirt after all. So that was a waste of money and time.
So I finally went downstairs, said hello to everyone that was invited (and also that tagged along with an invitee). Next, was to set up the music as no one was able to do that. I connected the speaker boxes to my laptop and quickly made a playlist (that mostly consisted of Lana Del Rey and Madonna music). I also had a long track of dance music, which I had downloaded the day before.
At that moment I was still stressing out that all wasn't perfect and I still wanted to get shit done… but then… I just gave up… I was DONE!! This is what I had been able to do and I decided to just enjoy MY party. I went to the bar and get filled my glass with wine.
Party time

The party didn't really start until 22.00hr… there was a lot more food than I thought, and enough drinks for everyone.
The karaoke was also a fail, because I had no time to test the speakers on the TV, and the TV build-in speakers weren't big enough to fill the room, the karaoke would not work… I was also way to drunk at that point to figure it out, so I also gave up on that… and went to get another drink.
Next, I wanted to put up the visual dance videos, but somehow the HDMI wouldn't connect to my laptop… again… I gave up and I was done.
I just went to have fun…
The photo booth went great. I had 2 photographer friends and they made amazing pictures.
My best friend, Dominique, went behind the bar with the other 2 boys and started mixing 50-50 drinks for everyone. There were pure vodka shots, disguised with a nice sour apple flavor and after those shots… my mind went blank and I have no memory of what happened after that.
The party didn't end until 3.00am and I went to bed. I slept in the hotel and didn't have much trouble falling asleep (read: I probably passed out).
The clean-up party
At 8.00am Ryan, whom was also sleeping in the hotel room, woke up, we cleaned the party room, he delivered the stage, chairs and tables back to the rental company and I finally could rest again at 11.00am…. I was able to stay in the hotel until 15.00hr, so I decided to have breakfast and just lie down and try to rest until it was time to check out.
All in all… although I stressed a lot that I ran out of time and that not everything was perfect, I still had fun and my main goal was for everyone to have a good time and a massive hangover the next day and that mission was completed successfully! 😀
There are a lot more pictures on my Facebook account.