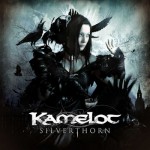 It's been about 3 weeks now that I got Kamelot's latest masterpiece "Silverthorn".
This album is everything every Kamelot fan can hope for. It's a million times better than the previous record "Poetry for the poisoned". Admit it; that album is not the symphonic power metal band's best record.
Silverthorn is a concept album and I read another reviewer write that Kamelot only seems to put out a really outstanding record when the album is a concept album. I think that reviewer is kind of right. This is the best album after the release of "The Black Halo" (which was my first Kamelot album by the way). You don't even notice the absence of Roy Khan on this new release. No disrespect to Roy. You know that I am a huge fan of his voice, but Tommy does an amazing job on this album. He officially is my new favorite male vocalist. 🙂
Each track on this record has something unique and as soon as the last track ends I usually hit the replay button and listen to the entire album (or my favorite tracks on it) again.
My favorite tracks on this album are: Manus Dei (intro), Sacrimony (Angel of afterlife), Torn, Song for Jolee, Veritas, My confession, Silverthorn and Solitaire. This doesn't mean that I don't like the other songs. These just seem to be the tracks that I mostly put back on replay. The composition of the songs is great. A few of them are very "typical Kamelot", but that doesn't matter. That's what we love. The female vocals are a nice touch to the album too.
This certainly goes on my favorite album releases of 2012 🙂
I would give this album a 10/10