Date: February 12, 2016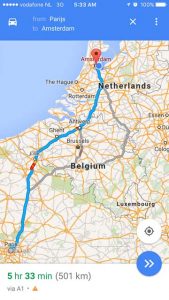 On the early morning of February 12th, 2016, Farid, Ryan and I did a road trip in Farid's VW Polo car to Paris. This was my very first time in Paris, so I was very excited. However it was very early though.
We drove from Amsterdam, via Rotterdam to Antwerp, Belgium.
We arrived just after sunrise in Antwerp. We decided to explore the city a bit and go grab some breakfast.
Antwerp
First thing we visited was the Antwerp train station. That building is ginormous and gorgeous. We had coffee near the Antwerp Cathedral and walked around the shopping area.
Brussels
After Antwerp we drove to Brussels see the Atomium. Another ginormous construction.
Paris
Next stop was Paris. We arrived in a bit of a "bad part" of Paris. But we had arrange a garage there where we left the car for 3 days until we were to drive back to Holland. After we found the garage we took public transport to the "nicer part" of Paris.
Via AirBNB we had arranged a small apartment in Bastille. This was on walking distance of the Bastille square. The apartment was very small, but very well located. Paris is a beautiful town. Too bad I do not speak French, but I can understand where the phrase "the city of love" comes from.
We didn't have an itinerary yet and decided to visit the Catacombs of Paris.
This underground and very eerie, but exciting at the same time. Apparently there is a horror movie filmed there and I still need to visit it. I have never seen so many human bones with my own eyes.
In the evening we were picked up by Ryan's cousin who lives in Paris. She cooked for us and we just hung out in her apartment. After that she brought us to explore Paris.
We first visited Sacré-Cœur, which is French for Sacred Heart.
From there we could also see the Eifel Tower from afar.
Next we drove to the Trocadéro where we had a gorgeous via of The Eiffel Tower.
I got a bit emotional and overly excited. You see it in pictured, you see it in the movies, but nothing beats the sight of the Eiffel Tower in real life. It's huge. It's spellbinding. I had to pinch myself. I wasn't dreaming.
That night I fell asleep feeling exhausted and content. I was able to cross something off my bucket list.