Okay, I think I may have made it sound like I had nothing but drama in Holland. I mostly did, but there were a few moments when I was able to forget the drama for a few hours. So you've been able to read about the negative stuff… oh, did I mention that I got food poisoning (or at least extremely ill) by some bad sushi? Worst 3 days of not being at home. o_O
Okay now I'm really going to the positive stuff.
Let's go to some happier stuff now 🙂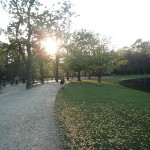 October 11 – Vondelpark
My friend Gideon whom I met in person last may in Holland for the first time texted me if I wanted to hang on Thursday. It was nice to meet up with him. We had lunch and afterwards walked around in Vondelpark in Amsterdam. After Gideon had to go back to his hometown I met up with my cousin Vincent for the first time after haven't had contact in years. Actually it was sort of the first meeting. We've met before years ago, but never really talked back then. Honestly I had even forgotten his existence. The contact really started a few months ago. So let's say it was the first time we met.
October 12 – Epica concert
Epica live in concert. That was really a night to remember. You can read ALL about that here!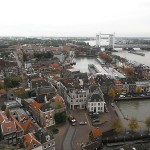 October 18 – A day in Dordrecht
I met up with my friend Vlien who lives in Dordrecht, NL. Vlien I met through the Epica concerts. Since I had nothing much to do and I've never been to Dordrecht we decided to meet up.
Dordrecht is just past Rotterdam and basically an island. It's quite small, but very interesting. Great scenery. I took lots of pictures. We also went to on top of "De Grote Kerk Dordrecht" (The great church of Dordrecht). From the tower you can see the entire town and even Rotterdam. It was really great. Afterwards I went with to Vlien her apartment and we spent the day chatting and playing these Pokemon Nintendo games.
Just before the evening was over I took the train back to Amsterdam.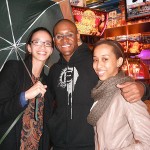 October 19 – The fair on Dam Square
On Friday I met with my 2 of my friends from Suriname living/studying in Holland. We first went to have lunch at an Italian restaurant on Damrak. And after that we went to the fair on Dam Square. I used to go to this fair, with my mother each time I was in Holland. This brought back so many memories. My friends and I first couldn't decide which ride to go on, so we eventually decided to go on one of the scariest. Best worst idea EVER!!!
After that it was time for some drinks in a café and later pizza and the central station and that's where we said goodbye.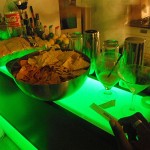 October 20 – Mexican Tequila Party
I didn't feel like spending the weekend home, boring myself so I sent a text message to my Japanese friend Hiro in Holland, whom I've met through Patrick. Hiro is a real party animal. I've been out with him and Patrick twice before and it was always a fun night. So I sent him a message what his plans were for the weekend. He invited me to this Mexican house party hosted by one of his colleagues. Hiro's colleague just got married in Mexico and they decided to bring the party over to Holland. It was a really nice party in this studio apartment in the center of Amsterdam. The newly-wed husband went to bartender school and is Russian, so I was prepared for the cocktails. And oh boy, they were DE-LISH.
NOTE: Lots of more pictures on my Facebook profile!