Let me take a moment to highlight the amazing three new friends I made on the island.
I will first start with the boys: Felipe and Felipe.
Yes, they both have the same name, which is why I thought it would be a funny title for this blog. 🙂
---
Felipe – Brazil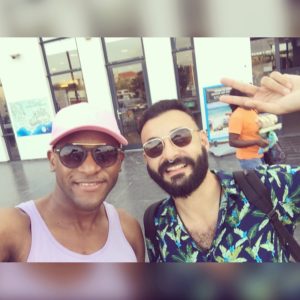 Felipe BR describes himself as "a bit of a hippie". I would describe him as uber-cool and hawt AF!! 😀
Felipe has a very huge Instagram following and is very adventurous. At each location we went to in Curaçao he was always the first one to wander off and explore the area. Whenever we couldn't find him he was usually always on top of some mountain with his GoPro; vlogging. He clearly loves to travel the world and live life to the fullest, which is amazing.
Felipe did trigger some memories to my former Brazilian lover and I did notice similarities in behavior, but it must be a cultural thing. Have a look at his social media platform; I am sure you will not regret this.
Felipe has his own LGBT Travel Blog based in Sao Paulo: GoAbilio
View this post on Instagram
---
Felipe – Colombia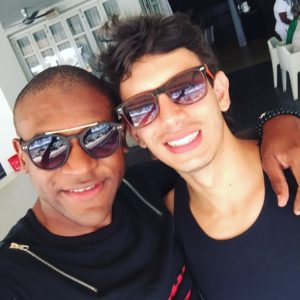 Felipe CO definitely reminded me of myself. He was always the last one to arrive at our meeting points, but that is because he likes to plan ahead what to wear and take his time to freshen up. It was nice to see myself from the point of view from of someone else. I loved it!
I would describe Felipe CO as a twunk!! And be sure to check out his IG-account.
Felipe CO is also a writer for an LGBT-magazine in Colombia. The topics he writes about make my blog sound like a child's bedtime story. He definitely has a set of brains and is very helpful, which is something I can appreciate very much. I have never had the intention to travel to Colombia before, but this is now definitely on my bucket list.
I also found out that Felipe CO knows Epica and has once been to their show in Colombia.
This was definitely added bonus points for him.
Both the boys were genuinely fun people to be around with and we definitely bonded. I hope we all get to meet again and have many more travel adventures. The world is ours and we can do this.
See the online magazine that Felipe write for: EgoCity
View this post on Instagram
---
Tirzah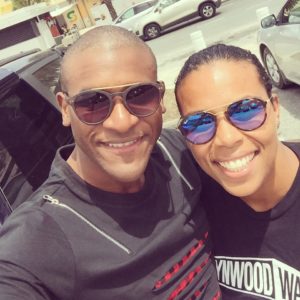 Our tour guide during this trip was Tirzah. Tirzah is what we described as the "Madonna of Curaçao".
Everyone knows her and everyone loves her. Everywhere we went there was always someone that was very excited to see her. Even when in traffic she was greeted from the other cars. This was awesome as we felt we were amongst Caribbean royalty. She is very beautiful and has a joyful spirit. You can't help but feel good in her presence.
She definitely knows the island well and I got to know a lot more about the history of it, despite having been there before. She is definitely as "crazy" as us and we were all on the same level, which made it easier to get along, but also harder to say goodbye in the end.
I will definitely be hitting up Tirzah again when I travel to Curaçao again and you should definitely follow her and contact her in you want to get to know the island some more.
View this post on Instagram