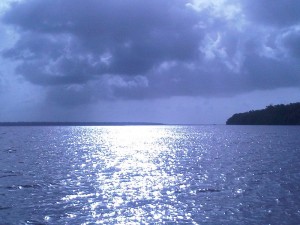 Last Tuesday I went on a Dolphin sightseeing tour in the Suriname River. I've heard and read about Dolphins living in this river, but I've never been on this tour before. Then again, it's not like they live close to the shore. All of this was arranged by my previous job at the hotel. A kind present for the legacy I've left behind :-p narf.
I had to be at the tour operator's office at 15.30h so I worked until 12.00 PM. I went home to prepare myself and take a nap. It felt good to be at home during the day. One of the many things I miss about my old job. Before I knew it I was asleep. I woke around 15.00h and honestly I didn't feel like going on the tour at that point. I wasn't about to let the opportunity slide, so I got my lazy ass out of the bed.
My mom drove me to the city at a speed not over 50 KM/h, which annoyed the hell out of me, but eventually I arrived. It appeared that I wasn't the last one to arrive late, which was a minor relief. We entered the buses and were brought to the dock where we boats were waiting on us. By the time we stepped into the boats it was about 16.00h.
We sailed to the middle of the river, close to the mouthing where the dolphins live and feed. It took some time for them to appear, but eventually we saw their heads peeking out of the water. We saw quite a lot actually, but it's very difficult to take a photo of them, because by the time your camera's shutter has closed they disappeared again. So the best thing is to take videos, which I did.
After an hour or two of sightseeing we were brought to this very small town with a population not bigger than 150 people. This town or village can only be reached by boat, so none of the villagers own a car. It was quite weird to see the townsfolk living in houses like theirs and the entire situation they live in. I started realizing that I should be grateful for the things I have in my own life.
At about 18.30h we gathered at the dock and went back to the shore where the buses were at. During the trip back most people started talking about their job. The trip was especially organized for front desk agents/hotel managers, for them to be able to sell the tours better, because they've actually been on the tour themselves. I think the initiative is amazing and a lot more tour operators should do this.
As the people started talking I realized how much I miss my old job, for I am not doing anything remotely related. It was good to hear the "hotel horror" stories of difficult guests, because then you notice that they all go through the same things and are able to relate. Even though all the hotels are each other concurrence, they are all still doing the same thing and face the same difficulties. Sharing is a way to learn from each other. It was amazing day, honestly much bigger than I imagined it would be, so I am very thankful for this gift.