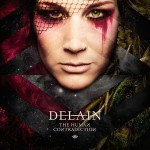 Dutch female fronted metal band Delain has recently released a new album called The Human Contradiction and I have to say it KICKS ASS!! 😀
I am totally in love it and have been listening to it constantly ever since I've heard the album. I have to say that this Delain's best work to date. Much heavier that before, but still easy to listen to. The only downside is that the album only contains 9 tracks. Seriously?!
Okay, there is an extra disc containing 2 more tracks and a few live tracks from the show in Haarlem (which I had attended last November), but officially The Human Contradiction only has 9 tracks, which is quite a bummer. Maybe we should see the 2 other new tracks on the mini-CD "Interlude" as tracks that were supposed to be on this album?
Anyways… back to the album now.
I love almost everything about this album. Delain has really stepped up their game with this record. They have 3 guest singers Marco Hietala (Nightwish, Tarot), George Oosthoek (Orphanage) and Alissa White-Gluz (The Agonist, Kamelot, Arch Enemy). And funny enough my most favorite tracks on the album ARE the one WITH the guest vocalist. Hmm… not sure if that's a good or a bad thing, but let's not over-analyze that right now.
Or maybe I should… I think that Delain should use more grunts in their music. Those tracks seem to turn out the best and when they performed here in Suriname last year, those were the tracks that stood out the most.
My most favorite tracks on the record are:
Here come the vultures
My masquerade
Tell me, machinist,
Sing to me
The tragedy of the commons
If I have to pick one, it would have to be the last one – The Tragedy of the Commons. Charlotte Wessels has really started showing us since the previous record "We Are The Others" that she can sing high. And on this album and especially on that track she lets us hear it again. And since I'm such a major opera geek this musically turns me on very much 🙂
To sum all of the above up, go buy this album, it's awesome! 🙂