At the office Christmas party of 2017 our bosses announced a work trip to Curaçao.
To be honest, at first it sounded too good to be true and we thought that this would probably never happen, but when we received the E-tickets a few months later we knew it was official… we were going to Curaçao.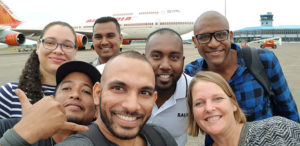 The last time I was in Curaçao was 9 years ago and it didn't leave a lasting impression on me. But I was a lot younger, I was with my parents and it was just a whole different kind of trip.
This time it was a trip full of partying and just having fun.
First off our trip got short from 6 to 4 due to a change in the flight schedule of our local airline. This sucked, because that meant we had to a lot in a very limited amount of time. Which afterwards was very exhausting. Nonetheless, we had fun.
The fun started very early when we all went to the airport by bus we had rented. It was very early, but my colleagues as a crazy bunch of people, so we were having fun from the start. At the airport, we went around and starting mixing with random people. By the time that we needed to board the sun was already high in the sky.
My colleague sitting next to me has a fear of flying so we had to comfort her during takeoff and landing. The flight to Curaçao is a flight that lands in Trinidad first to let out people and have others board. So we had to take off and land, twice. And boy, the pilot was not in a good mood. His takes offs and landings were horrible. It was like he was in a hurry for some reason and didn't make that a very pleasant trip for us. We were happy when that was over.
At the Airport in Haito we were greeted by our other boss that lives there in whose house we were staying. Very fancy house, located far from the city center, but with an amazing view of the sea. We quickly freshened up and went to go hunting for food. We had 3 cars to our availability so we could form groups and do our own thing. I was in the car with the local boss. We found some Dutch snacks, went grocery shopping and finally had a full meal in a restaurant.
That evening we went to a karaoke (lesbian?) bar. I as always was the one doing most of the singing, cause not everyone was into that. After the night was over, a few went to the house to sleep and the other went to go sight-seeing by car with the boss. I went sight-seeing. Well, I didn't see much, because I was exhausted and started falling asleep in the car.
The following morning we went to the beach. This was the first time I could enjoy the sea water and go snorkeling. With my contacts in and the snorkeling glasses I could for once actually see the fishes in the sea. It was amazing. We even drove to another beach, which was full of sea turtles, which was also an amazing experience.
That evening we went to the movies…. Jurassic Park 2… again I didn't see much, because I always fall asleep in the movie theatre despite having had a Starbucks beforehand and the movie being okay-ish.
The following morning we went off road jeep riding, which was an experience to say the least. First of all I literally got roasted in the sun, it was extremely hot and not to mention dusty. There were many times when I thought we would just tumble off a mountain. We also went swimming again at the turtle beach, but I had no interest in swimming, I was not liking the head again.
On the way back I asked the very, sexy tour guide if I could ride along. There was a spare seat and that jeep had a roof, so that was good for me. From there I had an easier time during the rest of the tour. Great sights. But again, I feared tumbling over and dying constantly. At the end of the tour my white shirt was yellow.
The following day we had to leave again. In the morning we went to a shopping mall, where I really had fun!! I bought 2 great shirts very cheap and a new pair of sunglasses. Soon afterward we went back to the house, packed our bags and headed to the airport.
We said goodbye to the boss living in Curaçao and boarded our plane.
Again we had to comfort of colleagues with flight anxiety, but this time the flight was a lot easier than when we left from Suriname.
The next day we were allowed to stay home if we wanted, which most obviously did… including myself… and after that it was back to normal.
But for me it was also time to prepare for my next trip 😉