It has been two weeks since the release of Nightwish's eight studio album "Endless Forms Most Beautiful", and I have not been able to stop listening to it from the first moment I have heard the latest masterpiece by this Finnish band.
I took my time to listen to this fully, before writing about it, because usually I write with utter excitement and sometimes my opinion can be just in the moment, but I can assure you that my fondness of this album is still the same as two weeks ago.
First of all I will not spend too much time on how excited I am about Floor Jansen singing on it. I have been a fan of her since 2003 and am more than familiar with her outstanding vocal abilities. A fact that she has been proving year after year, no matter in / with which band she is singing with.
On EFMB she lets us hear all her vocal capabilities, from clear vocals to screaming, to growling to full high operatic. After all these years I am still in awe of her amazing talent.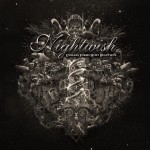 Now (finally) on to the record itself.
Tuomas Holopainen is one of the best composers to walks this earth. His songs / lyrics tell a story that you are able to decipher, but are able to enjoy with such pleasure. It's poetry mixed with music, which creates magic. . Tuomas has described this album as a mixture between Oceanborn and Once, and I totally agree. Those are my two previous favorite NW albums and EFMB sounds exactly like that.