Yesterday I got my desktop PC back from the repair shop. It has been there ever since I had brought it to the shop, as I had mentioned in my blog post: Data recovery in full process!
They told me I needed to replace my hard drive, but they didn't have any in storage, so I had to wait until they got new ones. Which I think is totally pathetic. Seriously! An IT company that doesn't have hard drives in storage? Pathetic!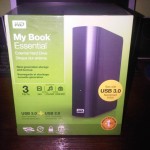 Anyway, they told me none of my data would be lost and after the hard drive was replaced I could get my computer back. I agreed to that… that was until they told me the total costs of the new hard drive. When they told me that, my jaw dropped and I told them, I have a better idea. My idea was not to replace the hard drive, but instead they could extract the data out of the computer and put it all my new external hard drive. This costs me a lot cheaper and I got my computer back at home.
The computer is still functional, but the problem will most likely occur very soon again. But no worries I'm buying a new computer at the end of December. The costs of a new hard drive where too much and I'd rather buy a new, more advanced one.
Meanwhile, I had been able to recover a lot of data from my crashed external hard drive, which I threw away last week by the way. But sadly a lot of folders were too corrupted to recover.
So I got MOST things out, except all photos I got off the internet from celebrities, bands and singers, which I used to make my fanart. But those things I can download again and I haven't made any fanart in ages, so maybe that's not a big deal.
What really does hurt is, is the music I've lost. I just went through my list of albums I had, and counted the numbers of albums I've lost is 211. :'-(
I lost THAT much music. All from a various range of genres: from metal to pop, to classical and soundtracks. I could simply download it all… although some were really hard to find demo albums.
This totally sucks.