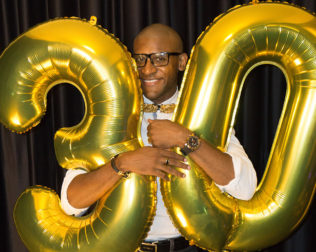 So it finally happened… I turned 30 last week… the HORROR!!
I am just joking. It's actually not that big of a deal to me and I actually do like my birthday. Since you only turn 30 once, I decided to throw a party… but this was not going to be just any regular birthday party… I mean, come on, have we met?!
Party Planning Stress
So it turns out that party planning is a lot of stress. If I had millions of dollars to spill I would have just hired someone to organize the entire thing and let them deal with all the stress. Since I don't… I had to plan it all myself.
I had this idea for a karaoke birthday party for a while now. As you know, I love karaoke, despite the fact that I cannot sing. I also wanted a photo booth for memorable, crazy, drunk pictures. I also didn't want every day decorations, so I went on Amazon and order all the decorations, photo props and whatnot that I needed.
As the day to the birthday party came closer I started to stress a lot more. Everything costs a lot of money and it's a lot of phone calls, emailing and driving places to arrange things. Also I was stressing out because up until 2 weeks before the party the things ordered were not here yet, due to a delay in delivery with the holiday season. But luckily the arrived just in time, so I could ease up a bit after that.
During the planning period I had a few times where I came THIS close to blowing off the entire party and just plan a trip abroad… I luckily know enough people that could help and advise me on things, so once that stress was lifted and I knew exactly what I wanted and needed the party could officially be organized.
The location I had picked was Hotel Babylon. A small, but gorgeous hotel that is not far from my home. I visited that place 2 years ago for the first time and it had left a lasting impression on me. As I was looking for a location for the party, I somehow knew that this would have to be it.
Actual Birthday
On my actual birthday, February 1st, I didn't do much of celebrating, but mostly drove around doing some shopping and ordering stuff for the following day. In the evening I went to my best friend's house were we peeled 12kg of potatoes for mashed potatoes. We drank a bottle of champagne while doing so, but that was the only kind of celebration.
When I went home I still wanted to create a playlist for the party and test the karaoke stuff, but my friends advised me to go to sleep. As I get older I cannot pull those all-nighters anymore. And it was about to be a long day so I could use all the sleep I could get it.