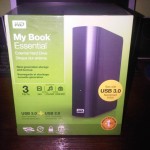 It appears that my external hard drive has crashed AGAIN. Little over a year the same happened to my old hard drive. This time it's less dramatic, because most of my pictures are on my Facebook, all the series and movies I haven't watched yet are on my laptop and all the music that I mostly listen to is on my personal laptop, work laptop and mp3 player. Also I have backups of my school stuff.
But this still is very annoying, because I didn't invest in an expensive 3TB external hard drive, only for it to crash on year later. This sucks big time. From now I will be going back to "old school" and start saving my things on CD/DVD. Yes, in this day of modern technology I often forget that this is still an option.
Sure is funny how history has a strange way of repeating itself.
And certainly NOT a pleasant way to kick off the New Year.