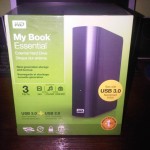 It has been 4 days now since my new Western Digital 3TB external hard drive is in my hands. My old Iomega 500GB external HD has been full for months now and I had been forced to store downloaded data on my desktop's hard drive and also on my laptop.
But eventually my desktop's hard drive was reaching its limit and my laptop also had been full for 2/3 of its memory, which meant that I had to buy some new storage space. After having placed the order, my new hard drive arrived after 3 weeks.
That's exactly the day my desktop decided to crash. I turned it on to install the new HD on it and it started restarting all by itself over and over again. This happened to me before. So I hope it's the same problem and not anything worse. The last time the constant restarting was caused by a virus and all my data was still in place.
Besides the fact that my old HD is out of memory the power button has also been damaged for months. You have to keep your finger on the button in order for it to make connection with the computer. So at the moment I've duct taped an old keychain to the power button to force it in.
Next is the last unexpected problem that I had to face.
A lot of files on my old HD seemed to have been corrupted for some unknown reason. When I try to cut, copy or delete a file nothing happen and instead a message pops up asking me to format the drive.
I have no idea why this error occurred, but I am not about to lose 500GB of data due to some silly error.
So instead I had to try a data recovery.
I managed to get my personal photos out and documents. Also my videos folder has not been affected by the problem, so I am able to get my movies, TV series and other music out of the HD. However the rest of my photos and all music is gone 🙁
Luckily 2/3 of all my music I also have on my work laptop, so retrieved those files from there to put them on the new hard drive, but that is it. Still a lot is gone.
I'm trying to get everything I can get out of the old HD and after this is I'm going to seek help at friends, colleagues and acquaintances to see if they can still manage to get the data out. If not, I'll just have to accept the fact and carry on. I have a list of all the music I albums I had so I'll just re-download it all.