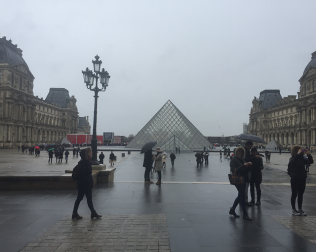 Date: February 13, 2016
The next morning we went for a city tour. Our main destination was The Louvre Museum, but we took our time to explore the city a bit first and started off with a real French breakfast.
Notre-Dame
First stop on our Paris city tour was: Notre-Dame. This cathedral is big and ethereal.
I was looking to see if I could see Quasimodo lurk behind of the pillars :p
Actually before entering Notre-Dame, we went to this underground museum right in front of the cathedral that displays a history of the Notre-Dame.