After 3,5 years the time has finally come to say goodbye to my workplace.
Since it was my last day, I was not going to let it go by unnoticed. First off, I made sure I would stand out with my outfit, so I fumbled my closet and picked out a shirt I had never worn to the office before and put on my new blazer jacket. I once read that your last impression is just as important as your first. 🙂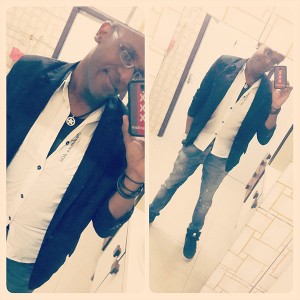 I was at the office very early, which is also quite unusual for me. It was a long day of rounding up some tasks and noting down instructions. But also I had my hands full with planning my own secret goodbye "party".
I had order 40 custom made cupcakes, but that didn't go as originally planned. In the morning I received a message from the owner of the cupcake shop that there was a problem. The original order I had, were chocolate cupcakes with a buttercream topping and the office logo on top of it. The logo was supposed to be edible. The problem was that the person who was supposed to print out the edible logo had to rush to the doctor in the morning, so the cupcake shop owner improvised by printing out the logo on paper and adding it as a decoration with a toothpick. I was happy with the improvising.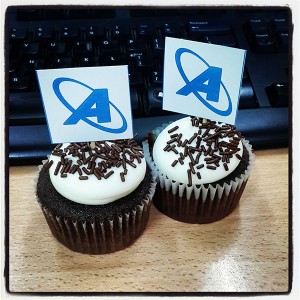 I also sponsored my colleagues, with whom I sat with in the office room, with lunch I had bought at one of my favorite Chinese restaurants. I'm sure everyone enjoyed their meal.
As it was my last workday and also the last working day before the next payday I had to register all my working hours. I am usually always up to date with registration, but since the last month has been a bit a slow I didn't do so until the last day. I however managed, but didn't finish until after 18.00hr. Almost everyone had already left the office by that time. I logged off for the last time; I switched off all the electronics and silently closed the office. The story had ended.
Hic fabula finitur!